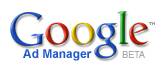 Today Google announced the introduction of their new AdManager service. It's described as an ad serving tool for publishers of small and medium sized websites. With it you can serve ads from AdSense and other networks along with serving in house advertising as well.
Google describes Admanager this way:
"It can help you sell, schedule, deliver, and measure directly-sold and network-based inventory. Google Ad Manager offers a wealth of features, including an intuitive user interface, automated yield optimization, and proven Google speed and reliability. Best of all, Google Ad Manager is free. Ad Manager currently addresses the ad management and serving needs of publishers with smaller sales teams and effectively complements the DoubleClick Revenue Center, which is focused on publishers with large sales teams. We're excited to add DART for Publishers to our suite of products, and we're committed to the continued development and enhancement of DoubleClick's offerings."
You can read more about Ad Manager here and here.
It sounds like a great tool for webmasters on a limited budget who want to have a high quality ad-serving system on their sites. After all the horror stories about AdSense publishers getting banned and losing access to their accounts I'm personally a little gun-shy about giving Google complete control over all the advertising. What happens if they start banning AdManager accounts too? Will I lose all my reports and data?
What do you think? Would you try this on your sites? Leave me a comment and let me know your take on Google's newest toy.
I'll be testing it out and will report back to you on how it's working for me.